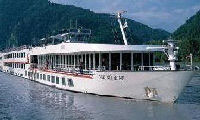 Viking Seine - Old
Overview
Experience life on France''s great rivers. Viking Seine sails the Seine between Paris and Le Havre, a sea port at the mouth of the Seine. Highlights of the cruise apart from lovely Paris are the charming Normandy scenery, mighty castle ruins and historic towns with soaring cathedrals. Viking Seine was launched in 2000 and offers the highest standards of safety and comfort.
Featuring 76 total cabins, 28 standard cabins, 48 deluxe cabins. All spacious outside cabins, including private bathroom with shower,converter in bathroom outlet, individual climate control, telephone, TV with several television channels, hairdryer and safe.
The Viking Seine offers many amenities including: restaurant, lounge and bar, library, sun deck with 360 degree views, promenade deck, internet station, souvenir shop, elevator, laundry service and much more.
Fine Dining
Our Chefs are trained in the finest European traditions, with specialties in French, German, Austrian and Swiss Cuisine. You may try authentic European dishes such as Viennese schnitzel, Hungarian Goulash and Alsatian Sauerkraut and sausage. We also offer a fine selection of international and regional wines to complement any entree.
When you dine with Viking River Cruises, your needs are anticipated and your desires fulfilled with pleasure. This starts with our dining rooms, which feature extra large windows for unobstructed sightseeing. The dining room is open seating, so you are free to sit where you like-a great way to make new friends. The atmosphere is casual but elegant, with high-quality table linens, china, cutlery and glassware. You'll love the elegance of dining on place settings of fine Norwegian china, Swiss cutlery, premium Indian cotton linens and German glassware.
To start your morning off right, a buffet breakfast is offered complete with a selection of fresh breads, eggs, cereal, pastries, cheese and European cold cuts, plus fresh fruit. Of course, you're also welcome to order from our selection of hot items prepared to order from our kitchen. For lunch, choose something light from the salads and sandwich bar or enjoy a homemade soup, choice of entrees and dessert. At Dinner, you'll look forward to our five-course gourmet menu with a choice of entrees including regional specialties like roast pork and Barbary duck breast and old favorites like roast beef and poached Salmon.
Thanks to the talent and creativity of our first-class chefs, every item on our menu is sure to satisfy and delight. For those with special dietary needs, we can also prepare low cholesterol, low sodium, vegetarian and diabetic selections with advance notice.
Freshly prepared breads and pastries
Seasonal vegetables from local markets
Cooking demonstrations
Theme dinner complete with decoration
Homemade soups prepared daily
Selection of fine teas or coffee
Desserts served with lunch and dinner
Authentic European specialties cooked for American taste
Europeans specialty cheeses: French, Swiss and Dutch
Choice of appetizers, soups, entrees, and desserts
Life Onboard the Viking Seine
On the Sun Deck you'll enjoy sunshine and fresh air while you take in 360-degree views of the scenery as you sail past castles, towns, villages, trees and vineyards. Stand at the railings or relax in a comfortable deck chair cushions are available. Some of the seating has a canopy for those who prefer shade. There is an access way from the sun deck to the bridge.
The middle deck Reception/Lobby area is a great place to get information or meet up with friends. Your Cruise Manager's desk is located here, so that you can easily ask questions or discuss the day's activities. There is a small seating area, a 24-hour tea and coffee station with a fruit basket, an onboard shop and restrooms. There is a PA system so the day's events can be announced; there is also an Internet station in the lobby area, so you can check your email.
The Observation Lounge is a terrific place to meet old and new friends before and after meals. It boasts a large sitting area with chairs, small tables, sofas and a bar area with barstools. The lounge has a projector and screen installed in the ceiling, so slides can be shown, and there is a stereo system and dance floor.
The Restaurant is where all meals are served during your cruise. Because it features panoramic windows, you will not miss any of the scenery while you are dining. It seats 154 guests at 24 tables which vary in size, accommodating 4, 6 or 8 guests per table. The room has a stereo system for playing quiet music during meals. Fine dining consists of early bird breakfast, breakfast, lunch and dinner. Guests may choose between several courses during lunch and dinner.
The Library has comfortable seating and excellent reading light. Our ships libraries carry approximately 80 books, in various languages but mostly English, and several games such as chess, backgammon and playing cards.
These are just some of the amenities and conveniences you will enjoy onboard the Viking Seine.
Year Built: 2000
Length: 365 ft
Width: 37.4 ft
Draft: 5.7 ft
Cruising Speed: 13.7 mph
Decks: 4
Crew: 40
Passengers: 154
Cabins: 76
Deluxe Cabin: 48
Standard Cabin: 28

Please note: Stateroom images and features are samples only. Actual furniture, fixtures, colors, configurations and window/porthole views may vary.
Deluxe Cabin
Description
These staterooms are the ship's finest. They are located a half-deck higher than the upper deck and are separated from public areas. Featuring, private bathroom with shower, two sofa beds, telephone, TV, several television channels, safe, hairdryer, individual climate control and panoramic window that opens.
Standard Cabin
Description
These staterooms are comfortable and economical. They are located in the forward middle section of the middle deck. Featuring, private bathroom with shower, one sofa bed, one pullman bed, telephone, TV, several television channels, safe, hairdryer, individual climate control and large picture window.
Please note: Stateroom images and features are samples only. Actual furniture, fixtures, colors, configurations and window/porthole views may vary.
Please select the deck plan you will like to see below
Lower Deck

Vendor
Viking River Cruises
General
Viking River Cruises-traveling with the best
When you cruise with Viking you sail with the world's leading river cruise company, and you enjoy the rewards of more than 175 years of heritage and a level of expertise second to none.
Inspiring destinations, beautifully crafted itineraries, expert tour guides, luxurious ships, fine cuisine, excellent service, remarkable value-our success is defined by all these things, and something else, too: personal attention to every detail. It's the way the bartender has your drink ready for you, at just the right time. It's the gentle guidance from your tai chi master in a lesson you take while sailing along the Yangtze. It's the handwritten directions from your concierge to the best coffeehouse in Vienna.
At Viking, we never forget that looking after you is why we have become the world's favorite river cruise line, and why our guests return to cruise with us again and again. Indeed, it is our guests who are our greatest ambassadors, making us the most honored river cruise line in the world.
If you have experienced the pleasure of traveling with us, then you will appreciate what makes a river cruise with Viking so special. And if that experience is still ahead of you, then it is one you are sure to enjoy.
The Most Award-Winning River Cruise Line
We have consistently placed high on competitive rankings like Conde Nast Traveler's Gold List, Reader's Choice and Best Small Ships awards; and Travel + Leisure's World's Best; we have also been honored by prestigious international organizations like the World Travel Awards. Meanwhile, travel agents have recognized us with awards including TravelAge West's Best Line for River Cruising and Travel Weekly's #1 River Cruise Line. And Viking is featured in National Geographic's The 10 Best of Everything.
Questions? Contact
Cruises-N-More today!
We are happy to provide a toll free phone number into our office from locations within the USA and Canada. Additionally, we have toll free numbers for the convenience of those residents of Australia and the United Kingdom.
USA + Canada

Speak to a travel Specialist

800.733.2048

(toll free)

Fax: 407.771.0077

Australia

Speak to a travel Specialist

800.076.002

(toll free)

Fax: 407.771.0077

United Kingdom

Speak to a travel Specialist

0.808.189.1292

(toll free)

Fax: 407.771.0077